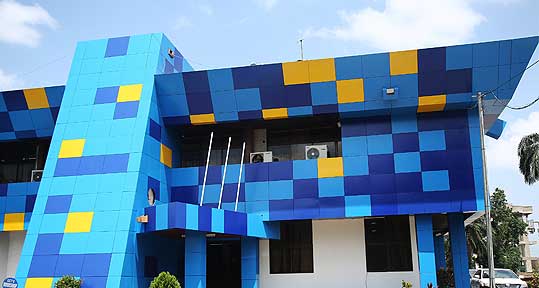 BSc Procurement and Logistics
Students must complete eight semesters in four years to earn Bachelor of Science in Procurement & Logistics. Top Up students must only take four to six semesters to graduate for the award.
Admission Requirement
Criteria for Admission Candidates for admission to the various courses will normally be expected to satisfy the general admission requirements of the University as specified in the Academic Regulations. This requires achieving either:
Senior Secondary School Certificate (SSSCE) and WASSCE holders: Passes in six (6) subjects with an aggregate score of 24 or better including English, Integrated Science, Mathematics or Social Studies in the relevant areas of study.
General Certificate of Education (GCE) holders: Five (5) credit passes at GCE Ordinary Level including English and Mathematics. Passes at the GCE Advanced Level in three (3) subjects with grade D or better in the relevant field of study.
Other Qualifications: International Baccalaureate (IB), IGCSE, GCSE, the American Grades 12 and 13 examinations, etc. which are equivalent to the SSSCE and GCE.
Holders of verifiable qualifications in courses of approved content in relevant field of study from recognized institutions. This is assessed on individual basis.
Mature Students: Mature applicants must be 25 years and above at the time of submitting the application, be in gainful employment and pass an entrance examination and interview.
'Top Up' Applicants: Higher National Diploma (HND) from a recognized polytechnic with at least 2nd Class Lower Division and holders of verifiable diplomas from accredited tertiary institutions. This will be assessed on individual basis.
International Students: International students may be considered for admission if they hold qualifications equivalent to those stated above, and demonstrate a competence to study using the English Language. In addition to the above entry qualification, the applicant shall be required to produce two letters of recommendation from his/her high school.
Admission criteria are set and monitored by Coventry University. Applications with non-standard qualifications are sent to the Faculty of Engineering and Computing in Coventry University for a decision.
4-yr Degree Programmes
Admission to level 100 would require the following entry qualifications:
Senior Secondary School applicants seeking admission must have passes in six subjects with an aggregate score of 20 or better in the WASSCE/SSSCE including core subjects such as Must have passes in core subjects such as English, Mathematics and Integrated Science or Social Studies with passes in 3 electives such as Physics, Mathematics, Geography, Literature, French, Economics, Cost Accounting, Business Studies, Business Mathematics, Typing, Clerical Office Duties, Literature in English etc.
OR
Three passes in Advanced Business Certificate Examinations in addition to five passes in GCE 'O' Level or GBCE including English and Mathematics
Applicants with American Grade 12 school certificate must obtain a minimum of Credits in relevant subjects.
Holders of GCTU 6-month Certificate Programmes with a minimum Cumulative Weight Average of 80%.
Five passes in General Business Certificate Examination including English and Mathematics and three passes in Advanced Business Certificate Examination in relevant subjects.
Candidates with GCE Advanced Level must have passes in 3 subjects of which at least one must be grade D.
Holders of International Baccalaureate (IB).
Mature Students
Candidates who apply as mature students must meet the following requirements:
i. Be at least 25 years of age
ii. Have at least three (3) years work experience
iii. Have a relevant professional or work experience, or have authored some work in a relevant field.
iv. Must have passes in three (3) core subjects' i.e. English Language, Mathematics and Integrated Science plus a pass in any two elective subjects that are relevant to faculty requirements.
v. Must have credits in 5 'O' Level subjects including English Language and Mathematics.
vi. Diploma from a Teacher Training College
In addition, mature students must go through a compulsory mature access course for a period of at least 2 months. The applicant must also pass a competitive Mature Students Entrance Examination in order to gain admission. The examination comprises:
Papers in Mathematics and English Language.
ii. Papers in Physics for candidates applying for programmes in Telecommunication Engineering and Computer Engineering. Applicants to other faculties must write papers that are specific to the requirements of the faculties as well as papers in Logic and topical issues.
2½ yr Top Up Degree
Candidates must have an HND qualification with a minimum grade of Second Class Lower Division from a recognized Polytechnic.
Holders of GCTU Diploma with a minimum Cumulative Weight Average (CWA) of 65%.
Offline Application Procedure
Application forms for admission could be obtained at the GCTU Information Centre,
 GCTU – Adjacent Police Training School, Tesano, Accra
Kumasi Campus Amanfrom – University Junction– Off the main Barekese Road,
 Koforidua Campus Charley Junction,
Ho Learning Centre, Vodafone Regional Head Office,
Takoradi Learning Centre, Vodafone Regional Office
and at our website www.gctu.edu.gh
Applicants should please note that application submitted will not be processed until the cost of application form of GH¢150.00 is settled with banker's draft from any bank.
Completed application forms with certified copies of Certificates / result slips should be submitted to the admissions offices before the closing date.
Online Application Procedure
Select "For First Time Applicants" or "Create account" if a New User. Select "For Returning Applicants" or "Login" if a continuing user/applicant.
First time applicants are required to fill the various fields in order to have their account creation successful.
An SMS will be sent to phone number provided to confirm account creation.
Various programs offered in the institution will be displayed where user makes selection. Per selection made, the various programs within the selected program are displayed from which a choice is to be made by applicant.
Provide subsequent information to complete application;
-Personal details
-WAEC Results
-Sponsorship
-Payment
Graduate Application:
Personal details
Academic Background
Work experience
Document upload
Sponsorship
PaymentPayment should be made to confirm application (Visa Card/MTN Mobile Money).
NOTE: Applicants with statement of results from West African Examination Council (WAEC)  must add WAEC SCRATCH card(s) to their application form depending on the number of sittings
LEVEL 100 – FIRST SEMESTER
SECOND SEMESTER
COURSE CODE
COURSE TITLE
CREDIT HOURS
COURSE CODE
COURSE TITLE
CREDIT HOURS
BUAC 101
INTRO TO ACCOUNTING PRINCIPLES
3
BUMG 104
PRINCIPLES OF MANAGEMENT
3
BUMG 102
INTRODUCTION TO BUSINESS INFORMATION SYSTEMS
3
BUMG 106
COMPUTER APPLICATIONS IN MGT
3
BUMG 101
INTRO TO BUSINESS ADMINISTRATION
3
GTUB 106
BUSINESS STATISTICS
3
ENGL 171
COMMUNICATION SKILLS I
2
ENGL 176
COMMUNICATION SKILLS II
2
BUEC 105
BUSINESS MATHS
3
FREN 172
FRENCH II
2
FREN 171
FRENCH I
2
BUS 174
LOGIC AND CRITICAL THINKING
3
AFRS 172
AFRICAN STUDIES
2
---
LEVEL 200 – FIRST SEMESTER
SECOND SEMESTER
COURSE CODE
COURSE TITLE
CREDIT HOURS
COURSE CODE
COURSE TITLE
CREDIT HOURS
BUMG 201
BUSINESS LAW
3
BUHR 201
INTRODUCTION TO HUMAN RESOURCE MANAGEMENT
3
BUPL 251
PROCUREMENT PRINCIPLES I

3
BUPL 252
ETHICAL PROCUREMENT & SUPPLY
3
BUMK 201
PRINCIPLES OF MARKETING
3
BUPL 254
INTRO TO LOGISTICS MANAGEMENT

3
BUPL 253
SUPPLY CHAIN MGT
3
BUMG 205
MANAGEMENT INFORMATION SYSTEM
3
BUMG 204
INTRO. TO OPERATIONS MANAGEMENT
3
BUOL 256
PROCUREMENT PRINCIPLES II
3
BUPL 255
PROCUREMENT CONTEXT
3
BUEC 206
PRINCIPLES OF ECONOMICS
3
---
LEVEL 300 – FIRST SEMESTER
SECOND SEMESTER
COURSE CODE
COURSE TITLE
CREDIT HOURS
COURSE CODE
COURSE TITLE
CREDIT HOURS
BUPL 351
 PUBLIC PROCUREMENT I
3
BUAC 309
  COSTING TECHNIQUES
3
BUPL 357
HUMANITARIAN LOGISTICS
3
BUPL 352
COMMERCIAL CONTRACTING
3
BUMG 303
QUANTITATIVE METHODS
3
BUPL 354
PUBLIC PROCUREMENT II
3
BUPL 353
CONTRACT ADMINISTRATION
3
BUPL 354
LOGISTICS AND TRANSPORT MANAGEMENT
3
BUPL 355
E-PROCUREMENT
3
BUMG 301
RESEARCH METHODS
3
BUMK 353
MARKETING MANAGEMENT
3
BUBF 359
BUSINESS FINANCE
3
---
LEVEL 400 – FRIST SEMESTER
SECOND SEMESTER
COURSE CODE
COURSE TITLE
CREDIT HOURS
COURSE CODE
COURSE TITLE
CREDIT HOURS
BUMG 401
ENTREPRENEURSHIP
3
BUMG 452
STRATEGIC MANAGEMENT
3
BUPL 451
MANAGING RISK IN SUPPLY CHAINS
3
BUPL 452
WAREHOUSING AND DISTRIBUTION
3
BUPL 453
NEGOTIATIONS AND CONTRACTING IN PROCUREMENT AND SUPPLY
3
BUPL 462
STRATEGIC GLOBAL SUPPPLY CHAIN
3
BUPL 461
MEASURING PROCUREMENT PERFORMANCE

3
BUMG 464
TOTAL QUALITY MANAGEMNT
3
BUMG 456
PROJECT MANAGEMENT
3
BUPW 450
PROJECT WORK